Research article

Open Access
Evolution of metabolic networks: a computational frame-work
Journal of Systems Chemistry
2010
1:4
Received: 28 January 2010
Accepted: 18 August 2010
Published: 18 August 2010
Abstract
Background
The metabolic architectures of extant organisms share many key pathways such as the citric acid cycle, glycolysis, or the biosynthesis of most amino acids. Several competing hypotheses for the evolutionary mechanisms that shape metabolic networks have been discussed in the literature, each of which finds support from comparative analysis of extant genomes. Alternatively, the principles of metabolic evolution can be studied by direct computer simulation. This requires, however, an explicit implementation of all pertinent components: a universe of chemical reactions upon which the metabolism is built, an explicit representation of the enzymes that implement the metabolism, a genetic system that encodes these enzymes, and a fitness function that can be selected for.
Results
We describe here a simulation environment that implements all these components in a simplified way so that large-scale evolutionary studies are feasible. We employ an artificial chemistry that views chemical reactions as graph rewriting operations and utilizes a toy-version of quantum chemistry to derive thermodynamic parameters. Minimalist organisms with simple string-encoded genomes produce model ribozymes whose catalytic activity is determined by an ad hoc mapping between their secondary structure and the transition state graphs that they stabilize. Fitness is computed utilizing the ideas of metabolic flux analysis. We present an implementation of the complete system and first simulation results.
Conclusions
The simulation system presented here allows coherent investigations into the evolutionary mechanisms of the first steps of metabolic evolution using a self-consistent toy universe.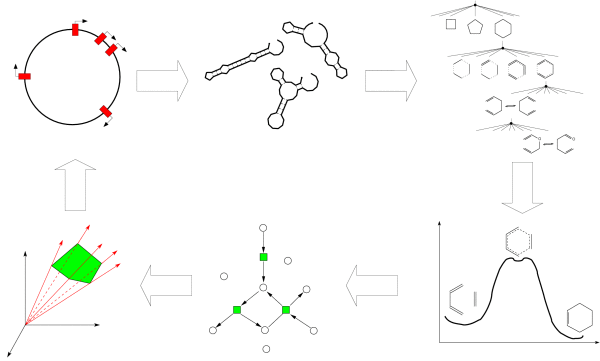 Keywords
Metabolic Network
Cyclobutadiene
Tree Edit Distance
Extreme Pathway
Outer Planar Graph
Introduction
Computer models of the transition between an abiotic chemosphere and a primitive biosphere are plagued by the complexity of the systems and processes that need to be integrated into a coherent picture. Individual aspects and components, such as thermodynamic boundary conditions, the dynamics of self-replication, the effects of coding [1], the influence of spatial organization and compartmentalization, can be -- and have been -- tackled with their own specific minimal models. Much of the most successful modeling e orts have been invested in early systems of information propagation. The success of these approaches can at least in part be explained by the fact that generic behavioral regularities can be extracted independent of physical details. It is entirely sufficient to consider linear sequences that can be copied, mutated, ligated, and cleaved according to rules that do not have to recurse explicitly to underlying physics and chemistry [2–5].
We argue here that the situation becomes fundamentally different once we become interested in metabolic evolution. Then, chemistry (and in particular the complexities and subtleties of organic chemistry) is moved to center stage and any model must encapsulate the ground rules of chemical transformations: the conservation of mass and atomic types as well as conservation and dissipation of energy introduces constraints that critically determine the system's behavior. This does not mean, of course, that it is necessary to implement all of chemistry in all its natural beauty and with all its intricate details. Nevertheless, it calls for a frame-work that goes much beyond most implementations of artificial chemistries or the string models of polymer systems.
In principle, so we argue, we eventually will need to understand the transition to life, and the first steps in the evolution of primitive life-like systems, in terms of their chemical organization. Nevertheless, it appears prohibitively inefficient to even attempt an atom-level simulation, and even if it were feasible, it is not clear what insights were to gain from it. Instead, we would like to understand, and implement, information molecules and other hetero-polymer components by their sequence, at least in part because we already understand their behavior at that level. Practical simulations in this field, therefore, will necessarily have to have components at different scales and implement them using different modeling paradigms, leaving us with the question how to bridge the gaps between these different layers.
In this contribution we describe a particular framework in which questions about the most primitive "life-forms" and their evolution can be addressed. As we shall see, it combines a grossly simplified Chemical Universe (see Figure
1
) with a very minimal, RNA-World style, genetics, and simple fitness function linked to metabolic efficiency.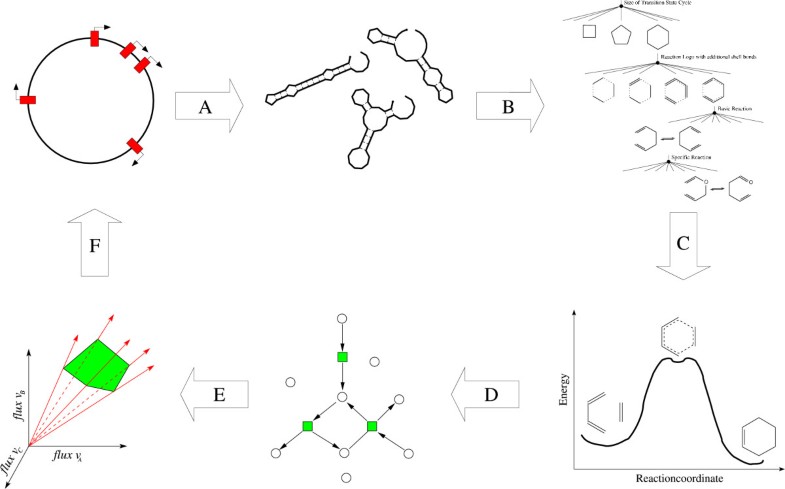 The Chemical Model Universe
Artificial Molecular Biology
Minimalist Genomics and Genetics
The "players" in our Simulation Universe are modeled as complex agents that are characterized by individual genomes. This genome is necessary and sufficient to encode the individual's metabolic, i.e., catalytic capabilities.
We are interested here primarily in the earliest stages of metabolic evolution, which arguably took place in the setting of the Early RNA World [48]. In this setting, RNA has the double role of genetic material and serves as catalysts. Both the analysis of naturally occurring ribozymes and a wide variety of artificial selection experiments have shown that RNA molecules of about 100 nt are capable of catalyzing most important types of chemical transformations that occur in a modern organism, see [49–51] for recent reviews. Thus it makes good sense from a prebiotic evolution point of view to implement "enzymes" as structured RNAs of approximately tRNA-size. For simplicity, we use a very simple genomic organization: A single RNA sequence serves as genome carrying a collection of non-overlapping "genes" encoding ribozymes. Start and stop positions of genes are marked by special sequence motifs.
Our organisms are though to be haploid. As genetic operators we currently use only point mutations as well as gene duplication. More sophisticated modes of genome evolution such as rearrangements, recombination, or lateral gene transfer are excluded at present but could easily be incorporated into the computational framework.
We refrain from modeling in detail any form of gene regulation to reduce the computational e orts. Again, such refinements could be included e.g. along the lines of [52, 53]. Our minimal organisms thus exhibit constant metabolic characteristics throughout their life-time, thus dispensing with the need to explicitly model any aspects of growth or development at the level of individuals.
Declarations
Acknowledgements
This work was supported in part by the Vienna Science and Technology Fund (WWTF) proj. no. MA07-030, the Austrian GEN-AU project "bioinformatics integration network III", the Volkswagen Stiftung proj. no. I/82719, and the COST-Action CM0703 "Systems Chemistry".
Authors' Affiliations
(1)
Institute for Theoretical Chemistry, University of Vienna, Wien, Austria
(2)
Bioinformatics Group, Department of Computer Science, and Interdisciplinary Center for Bioinformatics, University of Leipzig, Leipzig, Germany
(3)
FH Campus Wien, Diplom-Studiengang Bioengineering (Diploma Degree Course), Wien, Austria
(4)
Bioinformatics Group, Institute for Computer Science, Albert-Ludwigs-University of Freiburg, Freiburg, Germany
(5)
Image and Signal Processing Group, Department of Computer Science, University of Leipzig, Leipzig, Germany
(6)
Max Planck Institute for Mathematics in the Sciences, Leipzig, Germany
(7)
Fraunhofer Institute for Cell Therapy and Immunology, Leipzig, Germany
(8)
Santa Fe Institute, Santa Fe, USA
Copyright
© Flamm et al; licensee BioMed Central Ltd. 2010
This article is published under license to BioMed Central Ltd. This is an Open Access article distributed under the terms of the Creative Commons Attribution License (http://creativecommons.org/licenses/by/2.0), which permits unrestricted use, distribution, and reproduction in any medium, provided the original work is properly cited.