Research article

Open Access
Deconvolution of a multi-component interaction network using systems chemistry
Journal of Systems Chemistry
2010
1:6
Received: 23 March 2010
Accepted: 18 August 2010
Published: 18 August 2010
Abstract
We describe the stepwise construction of an 8-component self-sorted system (1 - 8) by the sequential addition of components. This process occurs via a large number of states (28 = 256) and even a larger number of pathways (8! = 40320). A pathway (5, 6, 7, 8, 4, 3, 2, then 1) that is self-sorted at every step along the way has been demonstrated experimentally. Another pathway (1, 8, 3, 5, 4, 7, 2, then 6) resembles a game of musical chairs and exhibits interesting shuttling of guest molecules among hosts. The majority of pathways - unlike the special ones described above - proceed through several non self-sorted states. We characterized the remainder of the 40320 pathways by simulation using Gepasi and describe the influence of concentration and binding constants on the fidelity of the self-sorting pathways.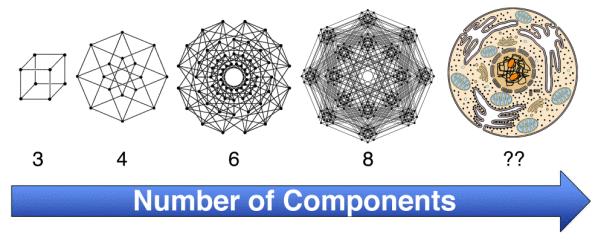 Keywords
Genetic Regulatory Network
Alternate Addition
Supramolecular Aggregate
Stepwise Formation
Experimental Pathway
Background
Chemical events that transform a complex system from one well defined state into a different well defined state are of critical importance in both biotic and abiotic systems[1–3]. For example, inside the cellular environment, signal transduction proceeds through a sequence of steps that transforms the system from one state to a completely different state. In single cell and multi-cellular organisms these signal transduction pathways are typically guided by various protein-protein interactions that are in turn controlled by genetic regulatory networks. A recent study revealed that the transcription regulatory networks in yeast Saccharomyces cerevisiae involve 4549 physical interactions between 3278 yeast proteins where as genetic regulatory network is formed 1289 directed positive or negative direct transcriptional regulations within a set of 68 proteins[4, 5]. Such protein-protein interaction networks define pathways for the propagation of various signals such as phosphorylation and allosteric regulation of proteins. Another study on Escherichia coli was able to identify 1079 regulatory interactions out of which 741 interactions are involved in the network that regulate of amino acid biosynthesis, flagella biosynthesis, osmotic stress response, antibiotic resistance, and iron regulation[6]. The complex network of interactions that characterizes biological systems results in remarkable emergent properties that ultimately give rise to life itself.
The success of systems biology[1, 7–11] in the reconstruction of complex functional systems based on a fundamental understanding of the behavior of a series of biological components has served as a stimulus for chemists to begin to develop systems chemistry with the goal of creating functional systems by combining the behaviors of well characterized chemical building blocks[12–14]. For example, the Ghadiri group has explored the behavior of complex systems comprising peptides, enzyme, and/or DNA toward the construction of systems that display self-replication, Boolean logic, and that even are subject to evolutionary pressures[15–20]. In another line of inquiry, the development of supramolecular aggregates (e.g. rotaxanes and related structures) that undergo well defined structural changes (e.g. shuttling) in response to suitable stimuli (e.g. electrochemistry, pH, photochemistry, chemical) has been shown to form the basis for molecular machines[21–23]. Although much work has been done to create individual functional components of future molecular machines, less work has been directed toward developing methods to integrate multiple components into a larger system and to allow efficient communication between different components as described above for Saccharomyces cerevisiae and Escherichia coli.
As first steps toward complex functional chemical systems, we have been developing multi-component systems that form a well-defined state consisting of a single set of supramolecular aggregates. We, and others[24–35], refer to such systems as self-sorting systems. For example, we selected 10 compounds from the literature well known to form supramolecular aggregates driven by H-bonding interactions and showed that this collection of aggregates forms even when all 10 components are mixed[36]. Subsequent work by our group has shown that thermodynamic self-sorting processes can be designed to occur in water using cucurbit[n]uril (CB[n]) molecular containers as hosts and can even be engineered to create systems that slowly transform from kinetic self-sorted to thermodynamic self-sorted states[37, 38]. Most recently, we have begun to study the ability of such systems to respond to suitable chemical stimuli (guest addition) which resulted in artificial chaperones for folding of non-natural oligomers, pH controlled inter-aggregate molecular shuttles, metal-ion triggered folding and assembly of a heterochiral double helical structure, and as a method to control enzymatic catalytic processes[39–42].
In this paper we describe a new eight component thermodynamic self-sorted mixture comprising
1
-
8
(Figure
1
) and the stepwise preparation of this eight-component mixture in eight steps. The fact that this eight-component mixture comprises a thermodynamic self-sorted state does not ensure that the precursor mixtures containing one, two, three, four, five, six or seven of the eight components also constitute self-sorted states. The identities of the host-guest pairs present within smaller mixtures can and do in many cases differ dramatically from those present in the
n
-component mixture. In this paper we study all of the 40320 pathways by a combination of experiment and simulation. We describe an interesting experimental pathway that is self-sorted at every step along the way that we refer to as a self-sorted pathway. We use the results obtained from simulations of the system to obtain further insights into the behavior of self-sorting systems.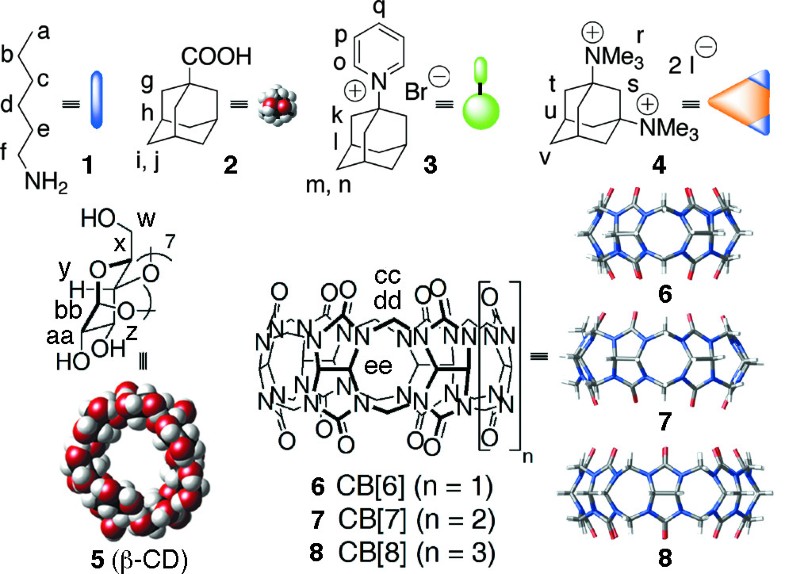 Results and Discussion
This results and discussion section is organized as follows. First, we discuss the construction of an 8-component self-sorting system comprising hosts 1 - 4 and guests 5 - 8 in water. Next, we describe three experimental pathways that involve the stepwise construction of the 8-component self-sorted mixture. Subsequently, we discuss some of the theoretical considerations involved in the stepwise construction of an n-component mixture and use simulations to investigate the remainder of the 40320 pathways. Finally, we discuss the implications of these results toward the use of self-sorting processes as the basis for the creation of complex functional systems.
Conclusions
In summary, we showed that a mixture comprising 1 - 8 forms an eight-component self-sorting mixture consisting of 6•1, 5•2, 7•3, and 8•4. We investigated selected pathways by 1H NMR and the rest by simulations for the formation of the eight-component mixture. The formation of this eight-component self-sorted system can occur by way of 256 (28) states and 40320 (8!) pathways; the self-sorting nature of the final state has no bearing on whether the intermediate states are self-sorted or non-self-sorted. A particularly interesting pathway that resembles a game of musical chairs that is self-sorted at every step along the way was demonstrated experimentally. We performed simulations of the experimental system using the program Gepasi to gain further insight into the system (number of components, sequence of host/guest addition, concentration, and binding constant values). Of particular interest was the segregation of the self-sorted (non-self-sorted) pathways to the lower left (upper right) corner of plots of ΔG° versus number of components (Figure 9b) which we trace to the need for a steady decrease in the overall value of ΔG° to maintain self-sorted states. Finally, we used simulations of hypothetical eight-component systems based on input log Ka values (mean ± standard deviation) and observed that self-sorting is rather common (20%) but that self-sorted pathways are not. Given that the log Ka mean ± standard deviation values for CB[n] hosts are similar to those of biomolecular interactions bodes well for their use in complex functional systems in the future.
Several aspects of this study may be of interest beyond the system specific considerations described above. First, similar to the molecular networks operating inside living cells, our designed experimental system are based on an intricate web of molecular recognition events. The fact that both experiments and simulations show that self-sorting is a relatively common behavior (20%) suggests that the use of self-sorting systems - particularly ones with segregated network topologies[51] - as the basis for the further development of non-natural functional complex systems is justified. One strategy that Nature uses to control the connectivity of its networks is compartmentalization. Compartmentalization serves to segregate incompatible chemical reactions and interactions and thereby greatly simplifies the overall network topology. The development of compartmentalized self-sorting systems represents a further step toward their integration with biological systems. Finally, we have begun to take steps toward using self-sorting systems to control enzymatic catalytic processes[40] which will be very important for the development of feedback loops and adaptability that are so critical in biological systems. When such approaches can be extended to more complex biological media it may be possible to use self-sorting system to interface with and exert control over portions of the interaction network of the biological system. Second, we have shown how the addition of a new component can dramatically change the composition of the multi-component mixture which suggests that self-sorting systems will be useful in sensing applications[52]. Lastly, this study highlights the power of combinations of simulation and experiment in systems chemistry. For example, we were able to use Gepasi simulation to fully explore 40320 pathways in a time comparable to that needed to investigate six pathways experimentally. These simulations highlighted that the successful generation of complex self-sorting systems relies on the availability of synthetic or biomolecular hosts that display both high affinity and high selectivity toward their guests.
Experimental
Materials
Compounds 1, 2, 3 and β-CD were obtained from commercial sources. Compound 4 and CB[6] - CB[8] were synthesized according to the literature procedures[49, 53].
Sample Preparation
The mixtures described in this paper were prepared as follows: 1) the calculated amounts of each component were weighed out separately and transferred to a 5 mL screw cap vial, 2) D2O (2 mL) was added, 3) the mixture was sonicated or vortexed for several minutes, 4) the pD was adjusted using conc. KOD or DCl solution, 5) the solution was stirred at room temperature overnight, 6) the solution was centrifuged, and 6) the solution was transferred to an NMR tube for analysis.
NMR Experiments
1H NMR spectra were measured on spectrometers operating at 400 or 500 MHz. Temperature was controlled to 298 ± 0.5 K with a temperature control module that had been calibrated using separation of resonances of methanol. All spectra were measured in D2O unless mentioned and referenced relative to external (CD3)3SiCD2CD2CO2D.
Simulations
Simulations were performed using Gepasi 3.30 running on a Windows XP workstation. The Gepasi output files were processed using Microsoft Office Excel 2003 and MatLab running on a Windows XP workstation. The Gepasi model files and MatLab codes used in these simulations are deposited in the Supporting Information.
Declarations
Acknowledgements
We thank the National Science Foundation (CHE-0615049 and CHE-0914745) for financial support.
Authors' Affiliations
(1)
Department of Chemistry and Biochemistry, University of Maryland, College Park, USA
(2)
School of Physical Sciences, Jawaharlal Nehru University, New Delhi, India
Copyright
© Ghosh et al; licensee BioMed Central Ltd. 2010
This article is published under license to BioMed Central Ltd. This is an Open Access article distributed under the terms of the Creative Commons Attribution License (http://creativecommons.org/licenses/by/2.0), which permits unrestricted use, distribution, and reproduction in any medium, provided the original work is properly cited.