Research article
Open Access
Synthesis of information-carrying polymers of mixed sequences from double stranded short deoxynucleotides
Journal of Systems Chemistry
2010
1:9
Received: 1 May 2010
Accepted: 18 August 2010
Published: 18 August 2010
Abstract
Background
The "RNA World" hypothesis suggests that an early form of life on Earth was based on nucleic acid strands able to store genetic information and catalyze a wide range of reactions including those which lead to self-replication. For this hypothesis to be true there must exist an efficient process for creating RNA or RNA-like polymers of mixed sequences from short precursors, where these polymers have to be long enough to fold into catalytically active structures (at least 40 bases).
Results
We report on the polymerization of dimeric to hexameric 5'-amino- oligodeoxynucleotides 3'-phosphates in the presence of the water-soluble carbodiimide EDC. Non-complementary single stranded nucleotides fail to polymerize and yield di- to hexameric cyclooligomers or capped EDC-adducts unable to undergo further 3'-5'-phosphoramidate formation. Complementary building blocks polymerize with a conversion close to 100% when starting from a concentration of typically 20 mM. The reactions proceed within a few hours yielding strands of mixed pyrimidine-purine sequences up to 300 bases long. The maximum length of the products depends on the type of the starting oligonucleotides. Copolymerization of a dimer alphabet consisting of equimolar quantities of all four sequences d(nYRp), where Y are pyrimidines and R are purines, generates a mixed-sequence library of 50-70 mers.
Conclusions
Libraries of long oligonucleotides with potentially catalytic activity are formed from short precursors within hours. Reactions occur via blunt end ligation of the double strands, and the reaction rates correlate with stacking interactions at the ligation sites. Circular dichroism measurements, polarized light microscopy and fluorescence microscopy suggest the formation of supramolecular aggregates during chain growth. These aggregates accelerate the reactions by increasing the local concentration of the reactants in a non-sequence-specific templating mode. Aggregation of the double strands into higher order "compartimented" structures might have been the key for the formation of the first inhabitants of the "RNA World".

Keywords
DinucleotidePolycondensationPolycondensation ReactionStrand FormationDouble Strand Formation
Background
"RNA World"
The first form of life on early Earth probably was based on groups of long aperiodic polymers capable of information transfer and catalysis. The discovery of catalytic RNA molecules led to the postulation of the "RNA World" hypothesis by Gilbert in 1986 [1]. Over the last two decades, strong experimental evidence has appeared in support of the theory. Ribonucleotides can be formed from small organic molecules under conditions resembling those of the primitive Earth [2, 3]; RNA and DNA molecules can form simple reaction networks by catalyzing replication of their complementary strands[4, 5]; RNA random pools can be evolved in vitro into ribozymes with various catalytic functions. The dynamics of the formation of new functions in such pools and their subsequent evolution have been extensively explored, both experimentally [6] and theoretically [7]. To perform catalysis, RNA molecules need a minimal length to be able to fold into an functional tertiary structure. The normal minimal length of aptamers, ribozymes and deoxyribozymes is 30 bases [6], but small catalytic RNA molecules as long as 5 bp are also known [8].
S. Kauffman proposed, that in a mixture of catalytically active polymers able to catalyze different types of reactions, a reaction network will appear in which all the species are interconnected by the number of reactions where they function as mutual catalysts. He called these interconnected groups "autocatalytic sets" [9]. When natural selection leading to Darwinian Evolution is applied to the mixture, the groups have a significant evolutionary advantage for the propagation of their genetic information, compared to single self-replicating molecules. The appearance of autocatalytic sets on the early Earth required a method for the formation of the mixtures of polymers able to perform catalysis.
The idea of the "autocatalytic set" suggests that the basis of the first living organisms could have been not only RNA, but rather any kind of functional polymers able to catalyze reactions and to transfer information by templating. This suggestion is partially supported by experiments. Systems based on self-replicating peptides [10] and small molecules [11] have been reported in the last two decades.
Formation of information-carrying polymers under potentially prebiotic conditions
It is still unclear how catalytically active polymers can be formed spontaneously in solution from shorter precursors. Stepwise stochastic addition of mononucleotides to the growing strand is ineffective because of slow reaction rates, low conversion, numerous side products [12] and the hydrolysis of the already formed strands.
The low reactivity of the phosphate ester bond can be enhanced by the use of activated precursors. Common chemical modifications are amine or imidazole groups at the reactive ends [13] and the use of cyclic phosphate esters as precursors [12, 14]. Heating can provide the necessary energy for the RNA bond formation, but strands formed this way will undergo rapid hydrolysis [14, 15].
Catalysis on surface is one of the solutions to the problem. Conditions on the primitive Earth suggest that different types of surfaces such as clays [16], ice [17] or lipids [15] could promote the polymerization of the nucleic acids.
Ferris et al. have shown that montmorillonite clay catalyzes a ligation of phosphoimidazolide-activated ribonucleotide monomers, and oligomers 55 bases long can be formed on its surface when fresh supply of the mononucleotides is provided [16].
The phosphoimidazolide-activated ribonucleotide monomers in eutectic ice-water phase in presence of Pb2+ or Mg2+ can polymerize to give 17-mers, as shown by Monnard et al.[17]. The incorporation of all four types of building blocks was observed in this case. Rajamani et al. have shown that heating and cooling cycles in presence of lipid membranes promote the oligomerization of not activated mononucleotides to oligomers up to 100 bases long [15]. The ordered surfaces formed by lipids instruct RNA polymerization, which is inefficient in case of the same tidal condition changes in solution of pure mononucleotides.
The reaction in bulk solution provides positive results when starting materials are changed. Heating of cyclic purine monoribonucleotides in water at 80°C allows their polymerization and the formation of the strands up to 120 bp long [14]. The reaction leads to correct regioselectivity (due to hydrolysis of the more labile 2'-3'- bond under the reaction conditions), but it does not occur with cyclic pyrimidines.
The use of double-stranded precursors can help to take the advantage of template properties of nucleic acids. Mononucleotides cannot be organized into double helixes. Longer building blocks are needed.
The first system of this type was suggested by W. Zielinsky and L.E. Orgel in 1986 [18]. They studied the self-complementary 3'-amino-5'-phosphate dinucleotides pGCn and pCGn (here and below the "n" symbol corresponds to the amino group while the "p" symbol represents the phosphate group). Water soluble 1-ethyl-3-(3-dimethylaminopropyl) carbodiimide (EDC) was used as a condensing agent to increase ligation rates. Side reactions leading to cyclic products were partially reduced, compared to mononucleotide polycondensation, but not completely eliminated. Oligomers up to 20 bp long were observed. The polymerization of pGCn yielded approximately 20 bp long strands, while pCGn predominantly produced a cyclic dimer. The authors explained the results in terms of the internal stability of the mini-helixes formed by the dinucleotides.
Bolli et al. have shown that pyranosyl-RNA tetramers with partially overlapping sequences polymerize in presence of EDC to give 36 bases long products after 6 weeks of reaction at 4°C [19]. Pyranosyl-RNA is the constitutional isomer of RNA with ribose units in their pyranose (instead of furanose) form and with phosphodiester bridges between the position 4'and 2'instead of 5'and 3'of the ribose ring. It has higher templating properties (both in strength and selectivity) than normal RNA. This system was able to discriminate mismatches in sequences and sugars of different chirality presented in the reaction mixture.
Recently, Horowitz et al. showed that, in the presence of intercalators e.g. ethidium bromide, that stabilize double strands, oligonucleotides up to 100 bp are formed, starting from concatenated tetrameric building blocks [20]. These authors demonstrated that a simple limitation of the cyclization pathway through the formation of relatively rigid double strands is enough to displace the equilibrium toward the formation of the long oligonucleotides.
Nakata at al. have shown that, at high concentrations, 6 bp long double stranded oligonucleotides can form liquid crystalline phases, where the duplexes are merged together by "physical polymerization" based on stacking interactions [21]. The authors suggested that, in the presence of an efficient condensing agent, the molecules in the stacks could react and form long strands. The use of supramolecular self-organization to complete the polycondensation is a highly promising approach to solve this 30-year old problem.
Design of the model system
Our initial interest was based on the formation of a prototype of an "autocatalytic set": a library of information containing polymers of different composition with a sufficient length to form catalytically active structures. To understand the basic principles of the library's formation, we decided to work with a model system not directly related to the "RNA World". We used chemically modified DNA-based oligonucleotides that are more stable in solution than RNA, easier to synthesize in large quantities and that do not form 2'-3'-bonds as a side product during polymerization. The target length of the polymers remained arbitrarily fixed to 30 bases, corresponding to the length set as a lower limit for the new ribozymes in RNA-based systems. Our approach was to design and study a model system, supposing that once basic principles governing the reaction are understood, these can be extended to other nucleic acid based polymers.
Analyzing the work done in this area and discussed above, we realized that it is easier to work with short oligonucleotides as a starting material than with mononucleotides.
The shortest known DNA-based self-replicating system consists of the CGCG tetranucleotide formed by ligation of two dinucleotides [22]. We chose dinucleotides as minimal building blocks that allow rate enhancement due to templating. Considering the differences in the efficiency of incorporation of purine and pyrimidine nucleotides [23], we used dimers with fixed 5'- pyrimidine-3'-purine composition, assuring that both types of the nucleotides are presented in the strand. The purine at the 3'-end and pyrimidine at the 5'-end provides stable purine-pyrimidine stacking between two reacting molecules, offering advantages for the system in the equilibrium step prior to polycondensation. Other types of base-pair stacking are less stable [24].
To design the model system, we used amino-modified DNA in presence of EDC as a condensing agent, to ensure fast and efficient ligation. 3'-amino-2', 3'-dideoxynucleotides have been used as model systems by the groups of Orgel [18], Richert [25] and Szostak [26]. After analyzing Orgel's work, we concluded that non-templated cyclization of the single strands can be reduced if the rate of ligation to elongate the double strands is enhanced. It has been previously reported by Shabarova et al. [27] that EDC-driven ligation of a phosphate group with amine at the 3'-end is 75 times faster than the ligation of the phosphate group with the hydroxyl, while an amino group at the 5'-end accelerates this reaction 100 times. The study of self-replicating molecules by von Kiedrowski et al. [28] had shown that the difference between 3'-amino and 5'-amino was increased almost 20 times in presence of template molecules. Our model system is based on 5'-amino-3'-phosphate terminated short oligodeoxynucleotides.
The polymerization of four possible 5'-aminopyrimidine-3'-purine phosphate dinucleotides was studied: nCGp, nTAp, nCAp and nTGp. The general reaction describing the system is shown in the Figure
1
. Several experiments with tetra and hexanucleotides as a starting material have been additionally performed in order to understand the reaction mechanism.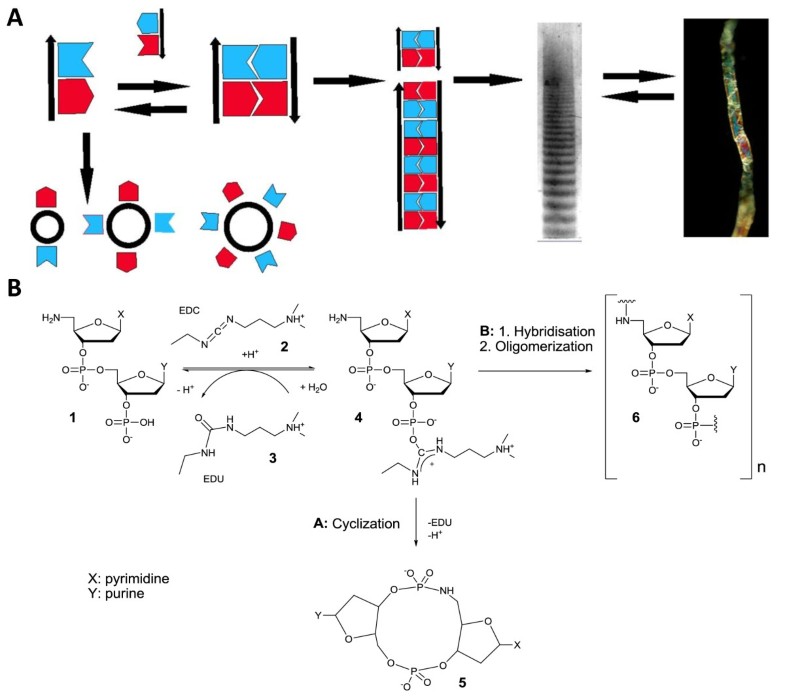 Oligonucleotides longer than 100 bases are produced within hours when the building blocks are complementary or self-complementary. The goal of the study is to understand the reaction mechanism and explore the efficiency of the reaction for nucleotides of different length and composition. Qualitative characterization of reaction provides a better understanding of the reaction mechanism.
The solution of the oligomerization problem allows us to model the origin of the "RNA World" in the laboratory and can bring us one step further in understanding of the mechanisms of the transition from simple organic molecules to living organisms.
Discussion
Presumably, different mechanisms operate at different reaction stages and the reaction products are the results of a combination of polymerization by double strands and self-organization. When dimers and short nucleotides are present in solution, polycondensation due to reduced cyclization is the major reaction pathway. When longer strands are formed, supramolecular interactions among them increase. Here, the DNA aggregates can be seen, abstractly, as the surface used to increase the local concentration of activated building blocks. This can displace the equilibrium towards the preferential formation of longer products.
The model system correlates with the work done by the groups of Orgel [18] and Hud [20]. In their systems, the decrease of the cyclization, resulting from the formation of double strands, leads to polymers formed by ligation of 10-20 building blocks. The results can be explained in terms of stepwise polymerization.
Orgel's system is closely related to our experiments, in spite of the different final results. The reaction conditions were the same in both cases: 2°C and 20-50 mM total dinucleotide concentration; the same type of condensation chemistry in presence of EDC was applied; the same base sequences were used. The main difference between the experiments leading to the different final results was the use of 5'-phosphates in case of Orgel and 3'-phosphates in the present work. In the work by Zielinsky and Orgel pCGn gave cyclic dimers as a main reaction product while in our case the reaction proceeded to the formation of long strands.
The formation of the cyclic product is probably more favored in the case of pCGn than for nCGp, due to the better bond rotation of the end phosphate group at 5'- position. The use of 3'-phosphate groups in the experiment does not contradict conditions expected to exist on the prebiotic Earth. In nucleoside phosphorylation experiments, both 3'- and 5'- phosphate nucleotides have been formed [12]. 3'-phosphates are the main reaction products in prebiotic purine nucleotide synthesis, as shown by Powner at al. in 2009 [2], though the real significance of this coincidence is hard to judge at the current stage of research.
The main difference between our and previously reported systems emerges when relatively long stands are already formed in solution. In our experiments, the concentration of nucleotides is below the reported value at which short strands of natural DNA start to condense [21]. Probably this effect is induced by the use of low temperatures and amino modified nucleotides, which possess lower solubility than non modified DNA (with 5'-amino dinucleotides the observed solubility limit is at a concentration of 50 mg/mL). Gryaznov et al. have compared structural and physicochemical properties of 3'-amino, 5'-amino modified and natural DNA oligonucleotides [33]. They observed that, at the single strand level, all the chains are isoelectronic, and have similar conformation, bond length and angle. An amino group is more hydrophilic than an ester bond in natural DNA. It slightly increases solvatation of chemically modified DNA at the single strand level. When double strands are formed, the 3'-amino group is more exposed to water than the 5'-amino group. The reduced solvation reduces the general solubility of the 5'-amino modified double strands. Another factor that may facilitate the aggregation of oligonucleotides at relatively low concentrations is the use of EDC. EDC can be seen as a polyamine condensing agent that neutralizes one of the negative charges on the phosphate backbone.
Conclusions
The formation of oligonucleotides from small precursors is a long-standing problem in prebiotic chemistry. We have shown that at low temperatures and high concentrations short complementary oligonucleotides can polymerize and give long products within hours. Different building blocks can be incorporated into the strand, promoting the formation of combinatorial libraries of oligonucleotides long enough to be folded into specific catalytically active structures and to potentially form initial autocatalytic sets. Formation of supramolecular aggregates during the polymerization reaction triggers the long strand formation and leads to high yields.
Environmental conditions possibly provided numerous situations where concentrated solutions of nucleotides and small organic molecules could have existed. It is commonly believed that long RNA strands may have required millions of years for their formation. Probably this is not true. If long strands can be formed in a fast and efficient way, we can suggest that the origin of life is not an isolated accident under very specific conditions, but rather a common form of self-organization of complex organic molecules.
Experimental
Materials
The synthesis of 5'-amino- 3'-phosphate dinucleotides is reported elsewhere [5]. Tetra- and hexanucleotides were produced by machine-assisted synthesis; dinucleotides were synthesized in solution. All the building blocks were purified by preparative HPLC, lyophilized, diluted with double distilled water, filtered and stored at -20°C.
HPLC
Reverse phase and ion exchange chromatography were performed with Kontron HPLC equipment. Detection of the peaks was done at 254 nm. RP HPLC was carried out with 4 × 250 mm Nucleosil 120-5 C18 and VP 250/10 Nucleodur 100-5 C18 ec columns with 0.1 M NH4HCO3 in H2O/CH3CN gradient (see SI for the details of the gradient). IE HPLC was performed with a column Mini Q anion exchanger from Amersham Pharmacia; NaClO4 gradient from 0 to 1 M at pH 12.5 was run.
UV
Determination of the concentration of the stock solutions was carried out with a UV Spectrophotometer Cary 1E from Varian using a 1 cm cell at 254 nm.
Polyacrylamide gel electrophoresis
BIORAD® Mini-PROTEAN Tetra Electrophoresis System was used; the gels were viewed on BIORAD® Fluor-S MultiImager. 5 μL of the diluted probes were mixed with 5 μL of denaturing INVITROGEN® loading dye solution. Aliquots with 50-100 ng of the nucleotides were loaded into 20% denaturing polyacrylamide gel (0.5 mm thick), run for 50 min at 55 V/cm voltage and stained for 20 min with SYBR Gold® nucleic acid gel stain (10000X in DMSO, Molecular Probes®). To estimate the length of the product Ultra Low Range DNA ladder by Fermentas® was used as a marker with a strands of 300, 200, 150, 100, 75, 50 (the most intense band), 35, 25, 20 and 15 nt.
MALDI
Equipment: Autoflex II-Massenspektrometer from Bruker with laser: N2 (337 nm). Method: 10 μL of sample were treated with Dowex 50WX8-200 cation - exchange resin in ammonium form, mixed with 5 μL of matrix solution (0.3 M of 2,4,6-trihydroxyacetophenone in MeOH mixed with 0.1 M diammonium citrate in water in proportion 2:1), 1 μL aliquot of the mixture was taken and allowed to dry in a steel target plate.
Circular dichroism
Samples were measured at a JASCO J-710 spectropolarimeter with temperature control. 0.01 cm and 1 cm quartz cells were used. 0.1 M HEPES buffer pH 7.5 with 0.4 M EDC was used as a baseline. The spectra were taken at a speed of 100 nm/min with 5 spectra accumulation.
Microscopy
The images were produced from a LABORLUX 12 POL optical microscope with linearly polarized filter and a Nikon Coolpix 4500 camera. 1 μL of the reaction mixture was placed under the object glass, allowed to equilibrate for 30 min and visualized under polarized light. For fluorescent microscopy a Zeiss Microscope LSM 510 was used with excitation at 450-480 nm and emission at 500 nm. The stock solution of the Hoechst 33258 stacking dye was added to the reaction mixture to achieve a 0.5 μg/mL final concentration.
General Methods
A desired amount of the starting nucleotides from the stock solutions were mixed in the 0.5 mL Eppendorf tube and lyophilized. Reactions were initiated with 6-10 μL of ice- cold filtered 0.4 M EDC solution in HEPES buffer (0.1 M, pH 7.5, 0.05 M Na+) and stored at 2°C (or another temperature, depending on the experiment) without stirring for 48-72 h, 1 μL was withdrawn at indicated times and the reaction was quenched by 100 times dilution with 0.01 M HEPES buffer.
Abbreviations
EDC:

1-ethyl-3-(3-dimethylaminopropyl) carbodiimide
PAGE:

polyacrylamide gel electrophoresis
CD:

circular dichroism
HPLC:

high pressure liquid chromatography
MALDI:

Matrix-assisted laser desorption/ionization
bp:

base pair
nt:

nucleotide.
Declarations
Acknowledgements
OT was supported by a DAAD Scholarship. We thank M. Wüstefeld and Dr. O. Medenbach for technical assistance and Dr. N. Takeuchi for comments and suggestions on the manuscript.
Authors' Affiliations
(1)
Department of Organic Chemistry I, Ruhr University Bochum, Bochum, Germany
Copyright
© Taran et al; licensee BioMed Central Ltd. 2010
This article is published under license to BioMed Central Ltd. This is an Open Access article distributed under the terms of the Creative Commons Attribution License (http://creativecommons.org/licenses/by/2.0), which permits unrestricted use, distribution, and reproduction in any medium, provided the original work is properly cited.